KAWASE INDUSTRY Co.LTD
When recycling waste plastic, rather than focusing on using it as a thermal energy fuel, our company considers it as a valuable effective resource and therefore we specialize in material recycling as our business.
The Reason for Focusing on Industrial Waste
Our business of material recycling mainly deals with waste plastic from industrial waste to produce raw materials. We specialize in industrial waste, since domestic waste is mixed with a variety of impurities. It is difficult and costly to differentiate one from another. Also, it lowers the quality of the recycled plastic products. Instead of using the waste plastic as fuel, we recycle them to produce recycled plastic material. We are particular about the quality of the recycled waste plastic in order to maintain the quality of production of recycled plastic as a resource.
Our Request to Separate When Recycling
We accept recycling of used containers generated through the daily production process (polyethylene drums, Intermediate bulk containers (IBC), etc.), based on your understanding of the concept of our material recycling. The recovered waste plastic is brought to our recycling plant and is deposited into the recycling line and pelletization line, in which we are licensed to conduct intermediate treatment. In the recycling line, the waste plastic passes through the pretreatment process (separating and sorting of foreign matter, and, crushing)→melting→volume reduction, granulation→pelletization / molding, and it is then converted into new plastic products.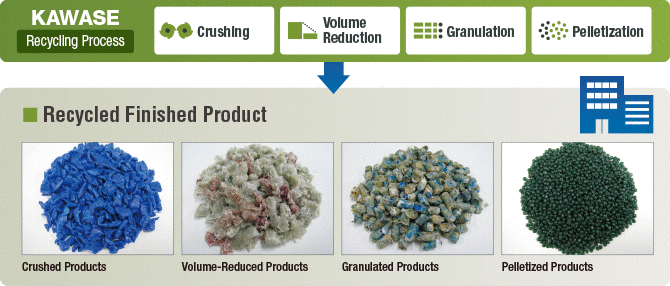 Our Unique Recycling System
Based on our knowledge of chemistry, we constructed a recycling system that includes the chemical treatment process and water treatment process, which is considered one of our unique strong points. We've built a recycling system to meet the expectations of the waste producers. We collect waste from a wide range of industries, such as containers contaminated with medicine or chemicals, contaminant-adhered plastic film containers, and laminating resins, which are considered difficult to recycle into new materials.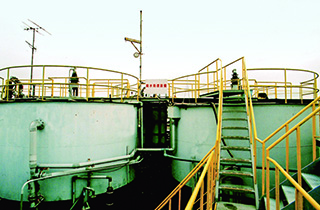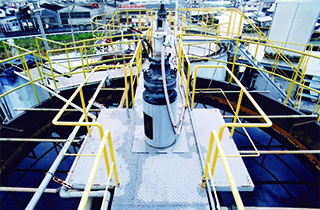 Drainage System Facility
Lists of Possible Products
・We aim to produce 100% recycled material, therefore it is part of our policy to reject objects that cannot be processed for recycling.
・We specialize in polyolefin (Polyethylene, Polypropylene).
・Waste liquid-adhered products can be reclaimed through our cleaning treatment and wastewater treatment facility.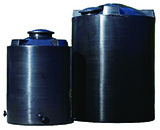 PE Large Tanks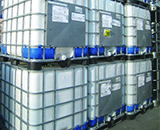 PE Intermediate Bulk
Containers (IBC)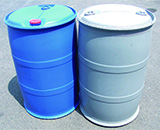 PE Polyethylene Drums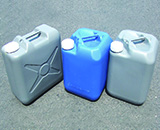 PE Polyethylene Containers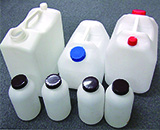 PE Polyethylene
Containers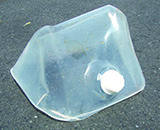 PE Bag-in-box
Containers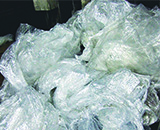 PE Films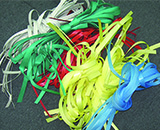 PP Bands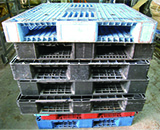 PP/PE Pallets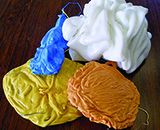 PP/PE Lumps
(from failed molds)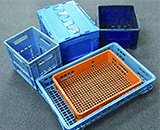 PP/PE Container Cases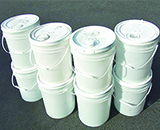 PP/PE Buckets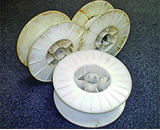 PP Soldering Reels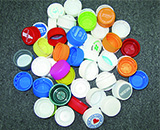 PP/PE Caps
The Process of Reproducing Plastics
The waste plastic are first detached, then sorted and crushed, and then combined, before it is melted and kneaded together in the plant. According to different kinds of molding processes, the recycled material can be converted into recycled products that can be reused in the public and in the household.
Examples of Material Recycling
We will introduce some of the examples from our past and current material recycling business.
Major Pharmaceutical Manufacturing Company
After washing, dehydrating and crushing the unwashed PE containers, PE drums, and IBC ( intermediate bulk containers), we reuse them as recycled plastic material and convert them into the recycled plastic products, such as recycled plastic squared lumber.
Major Distribution Center
After the volume of polyethylene films are reduced, cooled off, crushed and materialized, we convert them into recycled plastic products, such as recycled plastic squared lumber.
To enquire for further details or to request a quotation, please contact us from the "Email Us" form below or contact us by phone.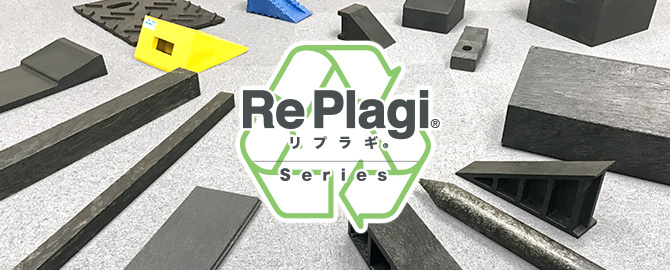 Recycled plastic materials can be used to substitute wood for all kinds of needs. Using recycled material contributes in protecting forests and the environment, by decreasing the use of fresh-cut wood from forests. The recycled material can be recycled again when disposing.
RePLAGI® (Recycled Plastic Products)
The recycled plastic products of RePlagi® are used in many ways by various companies.
We produce wheel chocks, and other diverse kinds of shapes out of the recycled plastic lumber.
*Since October, 2010, the product name was changed from "RePla" to "RePlagi®"
(Trademark registration: 5394596, 5320939)